Go Tech. Go Creative.
Go Professional
Take your business presentations to the next level with RRD GO
Discover the power of storytelling.
One slide at a time
Give your product presentations the winning edge with the right technology, creativity, and design
Slide into the next level of inspiring presentations
Innovate sales decks with effective, engaging, and high-impact communication design
Creating decks to present sales reports, data, or company information is one of the most tedious and stressful parts of any knowledge worker's job. It doesn't have to be. In the right hands, presentations can be a great tool for interesting, engaging, and interactive communications.
RRD GO Creative™'s presentation services team can easily translate complex information into targeted presentations that look great and communicate effectively. Our team of experts work with a vast network of creative designers, animation specialists, and certified research & analytics professionals. In addition to this, we employ an ecosystem of digital, video, 3D design and prototyping, and data visualization solutions to develop every kind of presentation that your business may require.
Get in touch with us now to know how you can hold the attention of your audience and win with your stakeholders.
Explore
Our presentation experts help a variety of brands all over the world on a continuous basis. How do we manage to achieve our service delivery excellence goals every single time?
RRD GO Creative™'s long standing record says it all.
20+ years of creative experience in designing presentations
2,500+ creative designers or domain experts
18 Million assets created per year for global organizations
33 Assets created and delivered per minute
4-hour Average TAT
For your presentation requirements
Contact us
Presentations tailored to your needs
Fixed prices without surprises
No hourly billing and extra fees, just cost determined on a per-sildes basis
PROFESSIONAL PRESENTATION (L1)
What we do:
Format slides according to brand guidelines or a style, even in large numbers
Ensure consistency of colors, fonts, layout and overall style
Adaptions from old brand to new brand templates
What you get:
Consistent, stylish and presentation ready decks
Decks that are 100% Brand Complaint
CREATIVE PRESENTATION (L2)
What we do:
Visually complement your idea or message with graphics, icons, illustrations, and images
Create custom animations to help showcase the flow of the deck
Design new layouts, and design approach where relevant
What you get:
Beautiful presentations that enhance your ideas and brand story
Decks that communicate your message in Boardroom Interactively
BESPOKE PRESENTATION (L3)
What we do:
Design presentations that tell a unique story
Structure the content via customized themes or concepts to effectively deliver your message
Create stunning customized motion graphics to create a visual impact
What you get:
Key messages highlighted through a story
Memorable narratives showcasing your brand
Decks that are perfect for investor pitches and product launch presentations
Charges vary, will be provided on quote!
Contact us
Customer Outcomes
Our flexible and scalable presentation services leverage visual designs, iconography, storytelling, and creative direction to:
Transform audience perception of your brand with brilliant storytelling
Enhance storytelling through engaging visual and engaging, precise content
Simplify complex ideas to visual presentations that persuade audiences and start conversations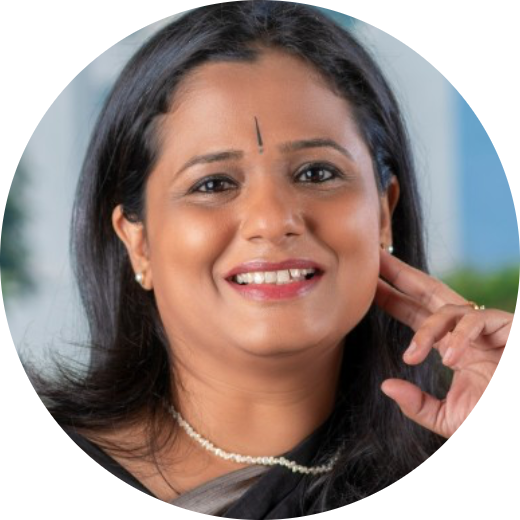 Expertspeak
"When speed is critical to closing a deal, and the demand for an articulate, high-quality presentation is non-negotiable, your best option is to rely on our experts at RRD GO Creative™. We offer end-to-end presentation design services, starting from document support and infographics, to creatively enhanced presentations. Backed by AI, collaboration technologies, robust data security, and a strong governance framework, our business solutions for presentation services are flexible, scalable and customized to your needs."
- Srividya Parthasarathy, Vice President - Creative Communications
Client Success Stories & Testimonials
Global Brand Solutions / Creative Production / Presentation Services
Secure, seamless, compliant, and timely delivery of presentations across 16+ time zones with record productivity, cost savings, and improved quality
January 1, 2022
VIEW SUCCESS STORY
Global Brand Solutions / Creative Production / Presentation Services
22% average improvement in turnaround times with global support for creative presentations for clients in 120 countries
January 1, 2022
VIEW SUCCESS STORY
Global Brand Solutions / Creative Production / Presentation Services
15% improvement in time-to-market using end-to-end document publishing support to deliver 100,000 projects
January 1, 2022
VIEW SUCCESS STORY
FAQs
You can reach out to us in 3 simple steps,
Login to our website www.gocreative.rrd.com
Click "Contact Us"
Fill up the details
One of our representative will get in touch with you within 24 hours
What are your service offerings?
We offer 3 different service lines Professional, Creative and Bespoke.

Professional:
Budget friendly approach for processing large volume of slides
Primarily used for Brand template and Internal presentations
Creative:
Highly effective for medium to small volume of slides
Suitable for Boardroom and Interactive presentations
Bespoke:
Highly effective for small volume of slides
Suitable for Investor pitches and Product launch presentations
What are the service/billing model used by you?
We have both FTE and Transactional model

FTE:
Dedicated resource (FTE) will be allocated for the account
The FTE will prioritize the request based on the deadline from the client
The FTE will be a specialized resource, trained on the branding as per client requirements
Transactional:
We have a large pool of resource who will work on your presentation jobs
Projects are handled in a FIFO workflow after agreeing the delivery timeline with the client
Our resources are well versed with 1000+ branding guidelines
How do I get to know the cost and time required for my work?
Just submit your enquiry using this form (Link to the landing page) and we will reach out to you for details. Once we understand your request, we will share an estimate of time and cost for your project. Work will commence once you sign off on the estimate and complete the payment.
Will you send me an invoice of my order?
The invoice will be shared once your payment is approved and will be shared via email.
Can you help me even if I have a small budget?
We will guide you to use your budget appropriately by having the right service line used for your project. Our aim is to ensure your presentations are impactful
My requirement is strictly confidential. Would you agree to sign an NDA?
We follow strict data security norms and have been working with fortune 500 companies for more than 20years. Please fill the enquiry form and we can sign a mutual NDA to begin the work.